THE BACKGROUND
This unique project employed ten writers, four producer-directors, dozens of technicians and hundreds of actors. From the first episode to the last it spanned over twenty years.
In 1987 freelance writer Bert Coules approached the BBC with the proposal to dramatise Sir Arthur Conan Doyle's most famous novel, The Hound of the Baskervilles. It was given the go-ahead as a two-part serial with Roger Rees and Crawford Logan as Sherlock Holmes and John Watson.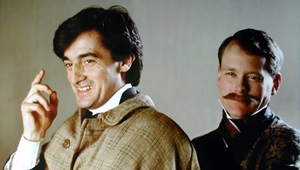 The show went down well with the public and the press and Coules suggested doing two more of the novels. The BBC agreed but insisted on recasting, and Clive Merrison and Michael Williams were offered the roles.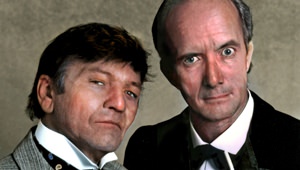 When A Study in Scarlet and The Sign of the Four were also a success, Coules proposed a six-part series of the best short adventures. The BBC though had other ideas: they would produce the entire canon of fifty-six short stories and four novels, the first time it had ever been done in any medium with the same two actors in the leads.
With Bert Coules as the head writer of a small and changing team, and with the same two producer-directors responsible for the entire remaining run of shows, the aim throughout was to go back to the original stories and characters and place the relationship between Holmes and Watson at the centre of the drama.
The project was launched in January 1991 and ran for the next nine years, attracting large audiences and guest stars of the calibre of Dame Judi Dench, Brian Blessed, Sir Donald Sinden and many others.
Four further series of brand new mysteries followed, with Andrew Sachs taking over as Watson after the untimely death of Michael Williams. The new shows were based on some of Conan Doyle's tantalising throwaway references to other cases which he never wrote up in full, culminating in one of the most famous, the strange affair of the politician, the lighthouse and the trained cormorant.
The programmes continue to be very popular, with many CD and download sales and frequent repeats on the BBC's archive service Radio 4 Extra.